Message from the President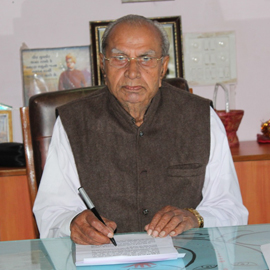 Education is Not Business But a Noble Service. Clear vision is the seed of accomplishment. This maximum is the leading sign at JJC Education Trust, Junagadh. It is established in 1969. Presently scenario in business takes fast steps in the era of globalization. In this case, I believe that organization today need technocrat with strong theoretical background who can relate their learning to the real world. This trust has been the nurturing ground for this breed of technocrats since its inception. "The need is the mother of invention". Trust has been growing with current required courses for the better of students. There are few beautiful feathers attached with the trust stated from 1969.
In 1969 commerce college is started which is the first leading co education college in saurashtra and in junagadh district. Law College with co education is established in 1970. In 1982 BBA is started, which is first Granted co Education College in entire saurashtra and second in Gujarat. M.com (PG Center) Co education is initiated in 1986. MBA is established in 1998, Pharmacy in 2005, Technology College in 2010 and I-MBA is initiated in year 2012. NRV LLM College is started in 2016, which is the first in saurashtra region.
These above are some of the glimpse of efforts towards the multidisciplinary education. JJC education trust have leading multidisciplinary co education institutes of saurashtra and specific junagadh region where students come across from all over Gujarat to learn and get best of the best education.
I am confident that the institutes will continue to grow with our mission. I would add for my students that education is the most powerful weapon, which you can use to change the world. I wish the students all the very best and all the success in their lives.
Nanjibhai R. Vekaria
President - JJCET, Junagadh